EYEBALL GLUETM Interactive Multimedia Presentations
 Audience Mesmerization & Advertising Synchronization 

 Transform your entire website into a beautiful dynamic experience 
your visitors eyes will not soon forget!
---
Since 2016 we are seeing up to 10.6 times MORE watch time using multimedia,… versus video,
that's multimedia 10.6
and video only 1 folks,

Get your branding message seen heard and converted MUCH better than old school sales funnels.


Some say we are killing video…

and killing websites too

and yes, even sales funnels.

DEAD!

Those people are conspiracy theorists! 😉

and they're RIGHT!



We like to think we are replacing old school communications with technology that makes more sense.
 ATTENTION ,  Engagement  AND  Interaction  is our focus

No matter what gadgets you use,

without those three things online
business slows down fast!

Unless you are a youtube video game star,
just watching videos isn't making ANYONE rich anymore!

Multimedia based websites create memorable
customer journeys using a three part strategy
that outperforms video alone!
Let your audiences reward you with their attention, interaction, engagement, MORE sales and word of mouth that has massive viral potential and memorability.


Our development team is lead by CEO Nick LaPolla, a seasoned tech veteran with 34 years building interactive applications PLUS over 20 years building dynamic interactive web application development. 

As a Senior interactive web application developer, Nick has authored & co-authored several interactive web systems handling up to 5 million visitors per month for major USA corporations like the ones below:
After leaving the corporate sector to lead his own company,

Nick lead development and launch campaigns for 7 successful brands
in the social media application and online video application markets.

Now WE build wicked audience mesmerization  stuff FOR YOU!
Besides bringing EYEBALL GLUE to the world,
our team has also carved a niche in the
human attention span acquisition market,

…if you need more of THAT

please let us know 😉
---
CONSULTING AVAILABLE
Areas Include:
Conversion Optimization

Interactive Sales Systems

Interactive Dynamic Web Content & Design

Interactive Multimedia Presentations

Interactive Customer Journeys

Audience Attention Acquisition

Rapid Deployment Product Launching

Digital Ad Campaign Management

Product Development

Web Presence


We also offer mid to high level project execution consultations on these
& many other areas relevant to our craft.
 
There is Sorcery afoot……..(no question about it 😉   )

TEAM COMPETENCIES
Organic & joint venture(s) responsible for numerous high six and seven figure projects many of which have achieved 8 figures!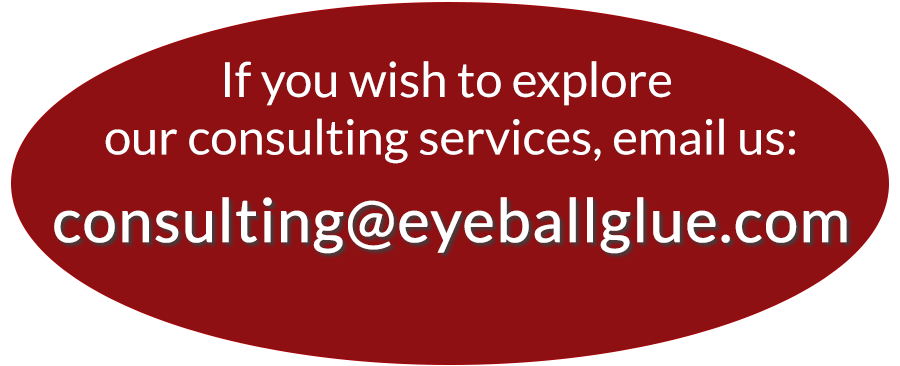 Copyright EyeBall Glue 2021 ©   All Rights Reserved    
Powered by EBG